On Saturday the Junior High Volleyball team will be heading to Redfield for the Redfield Pheasants Middle School Volleyball Tournament. Attached is the schedule for the day. It will be a rolling schedule throughout the day.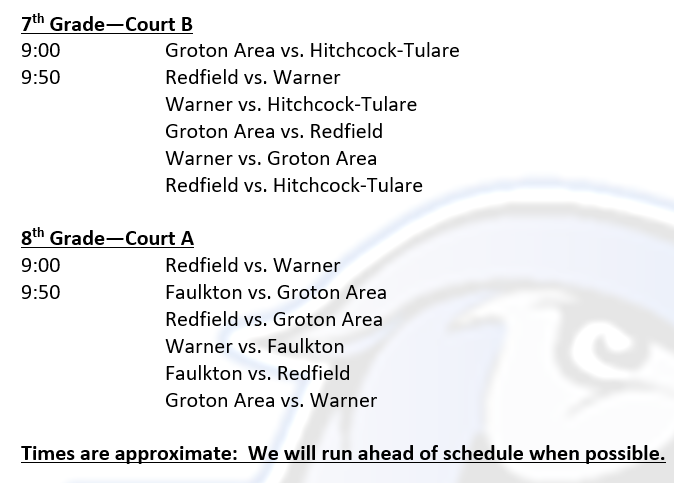 On saturday the JH and JV Football teams will be heading to Eureka for the Eureka Kuchen Jamboree. Attached is the schedule for the day for the Warner teams.
Good luck to the Warner Monarch volleyball team as they head to Ipswich for an LRC match. The schedule will be as follows: 7th @ 4:00; 8th @ 4:45; C @ 5:30; JV @ 6:30; Varsity to follow. If you cannot make it, the livestream will be available at:
https://www.valleytel.net/
Scroll down and click on the tiger head. Good luck and GO MONARCHS!

Don't forget...Picture Day tomorrow!! Make sure to send your child to school with a smile!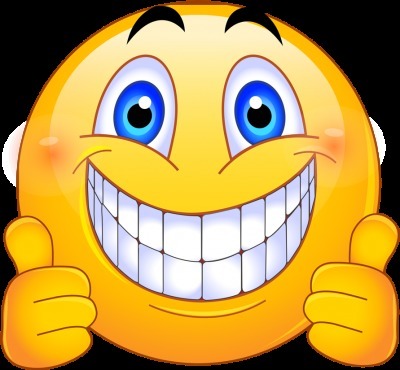 Due to numbers, the JH and JV football teams will no longer play Faulkton on Monday September 26 here in Warner. The JH football team will now be heading to Doland for a jamboree that day instead. Details to come.

September Reading Challenge started with a surprise celebration on the football field this morning. What a great way to start the week. Go Monarchs!!!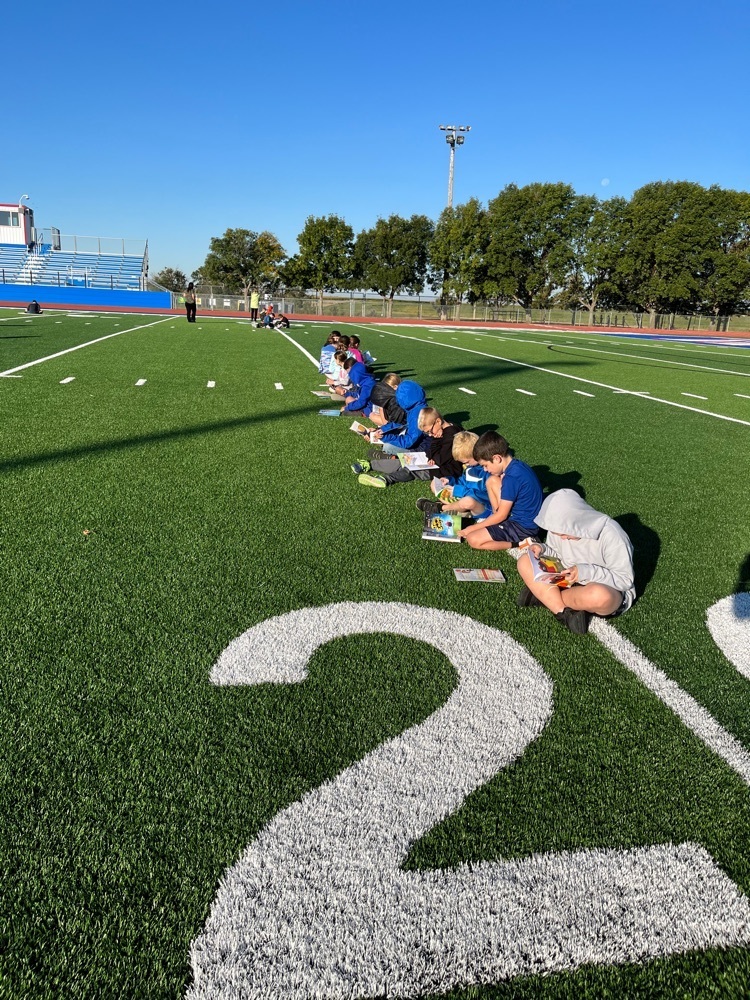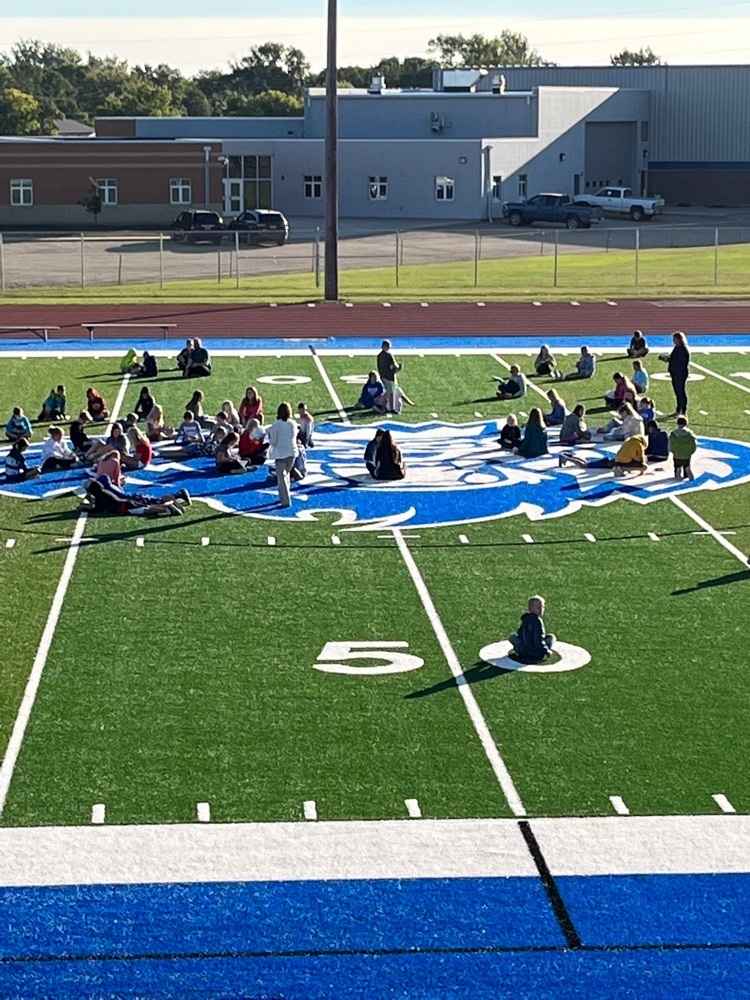 Just a few days left to shop Warner Gear! We have extended it to Wednesday, so you have a few extra days to get your orders in. Items are shipped directly to your house. Help support a Sophomore or Junior! Go Monarchs!
https://fancloth.shop/EGKBA
It will be a busy day for Warner Monarch Athletics! The JV and Varsity volleyball teams will be in Arlington for a tournament. The Varsity will play Elkton/Lake Benton @ 9:00, Burke @ 10:00, Arlington @ 12:00, Faulkton @ 1:00, and Deubrook @ 2:00. The JV will play Elkton/Lake Benton @ 9:45, Deubrook @ 10:30, and Arlington @ 12:45. Livesream for the varsity: //play.keemotion.com/422/1896/0/VZLIbA.html Junior High Girls Volleyball will play in a tournmanet at the Matchbox facility in Aberdeen. There will be three Warner teams participating (Warner 8th, Warner 7th Blue, Warner 7th Red). Warner 8th will play at 8:00 AM, Warner 7th Blue at 8:00 AM, and Warner 7th Red at 8:45 AM. Livestream:
www.matchboxrec.com/live
The Cross Country team will head to Ipswich (Split Rock Country Club) for a 10:00 AM Start. The race order is as follows: Girls Varsity, Boys Varsity, Girls JV, Boys JV, Girls Middle School, Boys Middle School, followed by a Munchkin run. JV Football will head to Gettysburg for a jamboree. They will play at 9:35 (Herried-Selby), 10:10 (Stanly County), and 12:30 (Leola-Frederick). Finally, we will be hosting the Chuck Welke Memorial Junior High Football Jamboree. There will be seven junior high football teams in attendance. Warner will play at 9:00 (Hitchcock-Tulare), 10:00 (Northwestern), 11:00 (Langford), and 12:00 (North Central). Have a great weekend. GO MONARCHS!
Good luck to the Warner Monarch football team as they head to Hoven tonight to take on the Potter Country Battlers. Kickoff is set for 7:00 PM. If you are unable to attend, there will be a livestream through Facebook; search the Hoven School District page. GO MONARCHS!

Due to unfortunate circumstances with a radio station employee, there will be no radio coverage of the FB game in Hoven this evening as originally planned.
Please join us for PTCO (Parent/Teacher/Community/Organization) on Sunday, September 11th at 2:00 in the lunchroom. New members and ideas are always welcome. See you there!
Good luck to the Warner Monarch volleyball teams as they head to Mellette to take on Northwestern. 7th Grade and C will play at 5:00, 8th and JV at 6:00, with Varsity to follow. Games will be livestreamed on NFHS Network or Northwestern Journalism Facebook Live. Go Monarchs!

Just a reminder on the Monarch Gear! Need some Monarch Gear?!? Shop FanCloth and help a Sophomore or Junior with their fundraising efforts for their DC/New York trip! Sales go through Sept. 12th.
https://fancloth.shop/EGKBA

Cheerleaders for the soccer game at recess!!!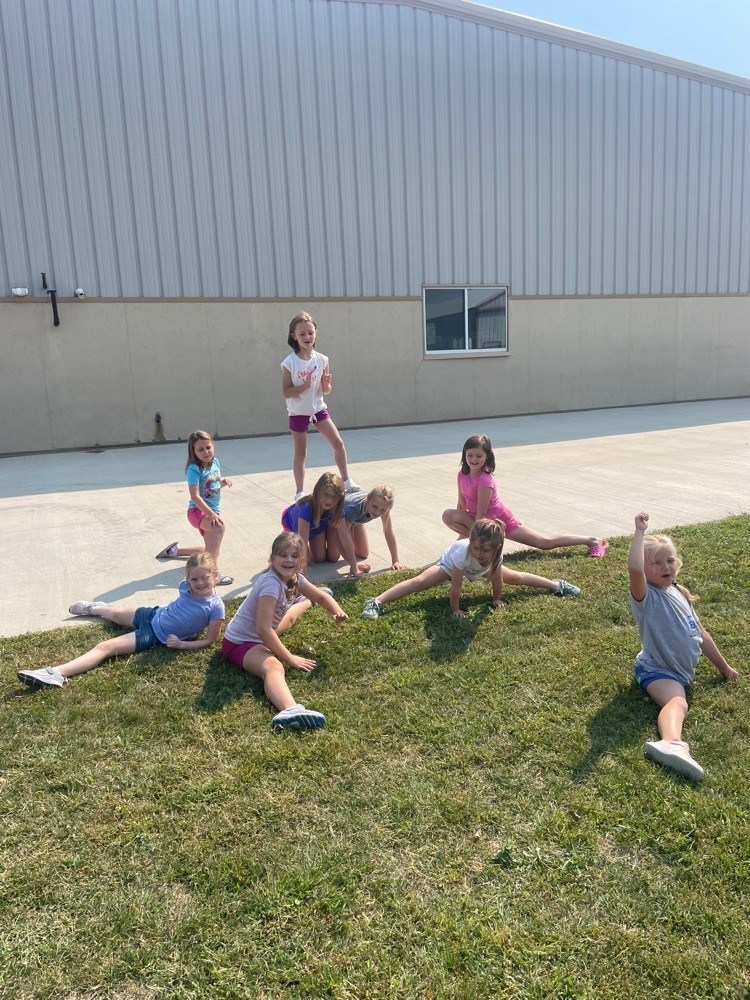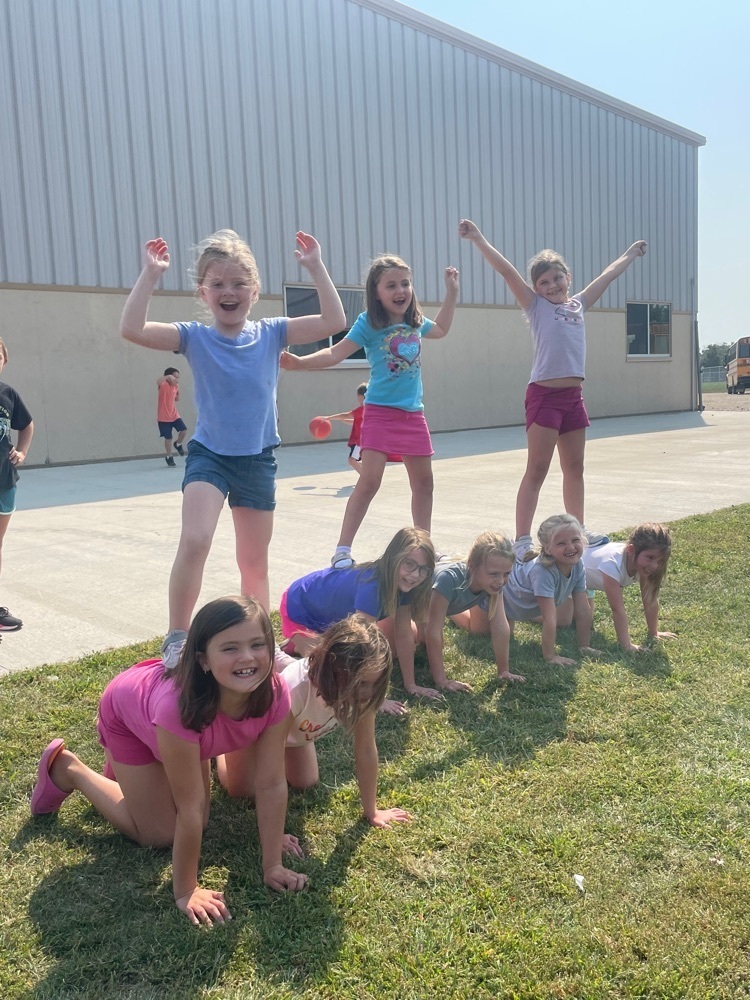 Please register your 3 year old for preschool screenings for Friday, September 16th by calling Mrs. Lane at 605-225-6194.
Join us tonight as we have Parents Night for the Volleyball team, and honor our seniors and their parents before the game. Your Warner Monarchs will host the Miller Rustlers here tonight. 7th Grade (5:15) and 8th Grade (6:30) will be in the old gym, while C Team (5:15), JV (6:30), with Varsity to follow will be in the Warner Arena. Remember the only place to enter is in the Arena lobby doors. Live stream will be available through
https://www.warner.k12.sd.us/
click on livestream in the upper right. GO MONARCHS!

Schedule a screening time for your 3 year old. If you know of someone in our district that has a 3 year old please have them call the school. Thanks!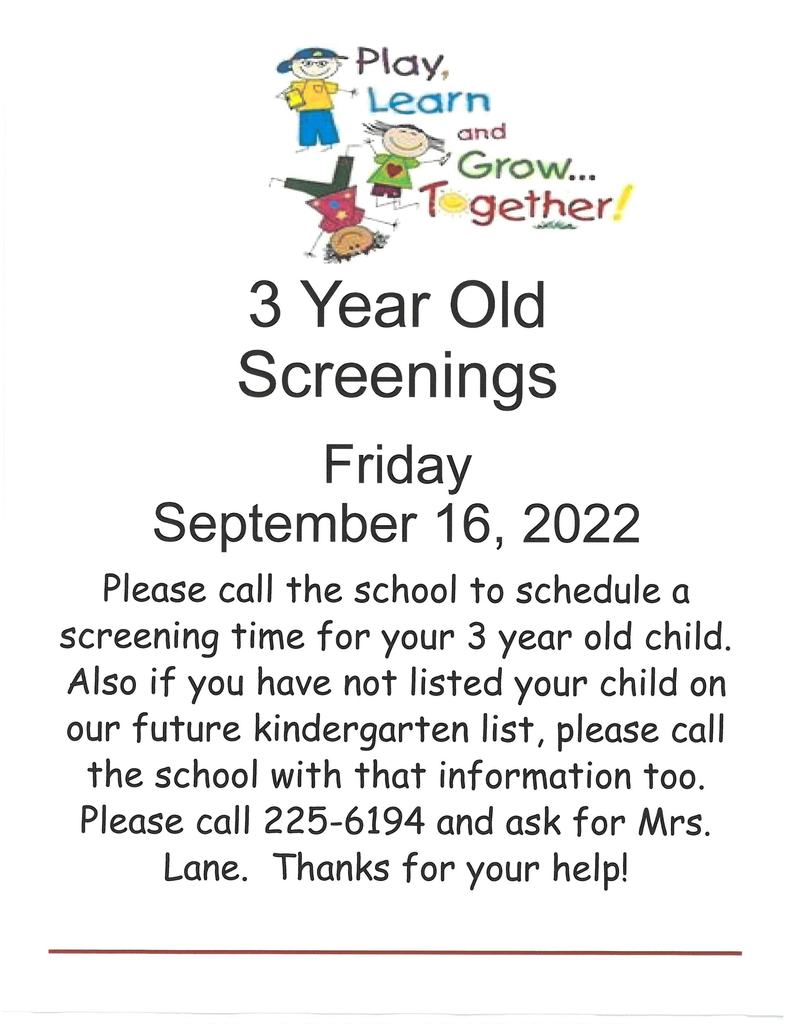 Come hungry to the Warner/Northwestern VB game Thursday in Mellette!!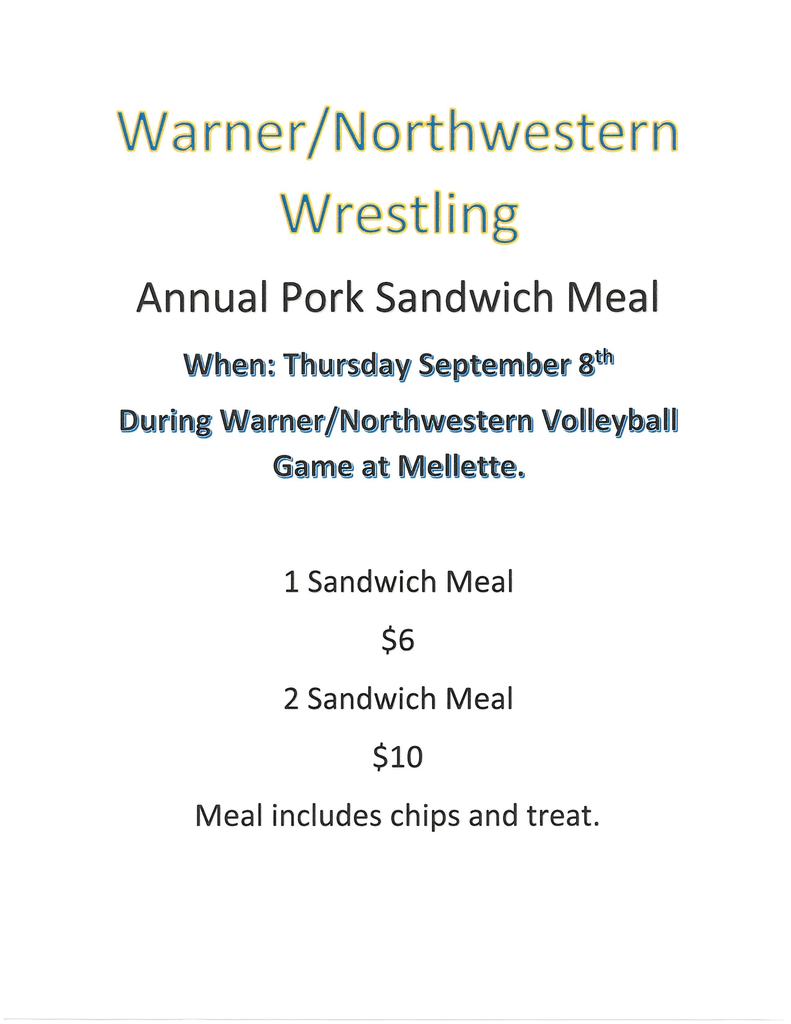 Enjoy your long weekend!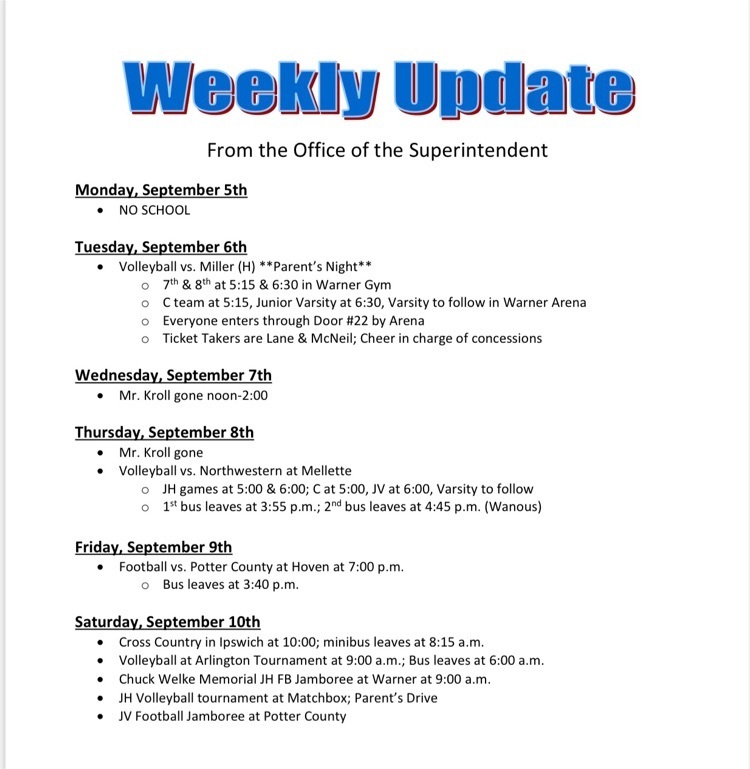 Head on over to the Warner Arena tonight as your Warner Monarchs host the Leola-Frederick Titans in a LRC Volleyball match. We will have a full schedule as 7th grade (5:15) and 8th grade (6:30) play in the old gym, and the C team (5:15), JV (6:30), and Varsity to follow play in the Warner Arena. As always the live steam is available at
www.warner.k12.sd.us
and click on Livestream in the upper right corner. Also just a friendly reminder to enter the games through the doors of the lobby in the Arena. GO MONARCHS!